Featured Trail Ride — Marin County, CA
Let's head west to Marin County, California. There are about 200,000 acres of public land in Marin, including Point Reyes National Seashore, California State Parks, Marin County Open Space, Marin Municipal Water District and more, featuring numerous microclimates and expansive vistas that compete with the most spectacular views in the world.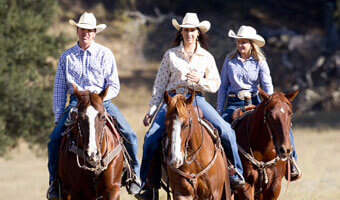 It's an easy trip to Samuel P. Taylor State Park, located about 16 miles west of Highway 101 on Sir Francis Drake Blvd. The last few miles are a bit twisty, but overall it's a straight shot even with a large rig. There's a day-use fee to park your truck and trailer, but it's worth it for the easy in-and-out and ample turnaround. The parking area isn't a bad spot for a picnic, either.
Trail options are numerous, depending on how long you want to spend in the saddle. The 10.5-mile Bolinas Ridge Loop takes you through rolling pastures (complete with cows), spectacular views of Tomales Bay, and the tree-covered slopes of the Point Reyes National Seashore. For a shorter, single-track ride, the Pioneer Tree Trail is only a bit over two miles, through dense forests of redwood and madrone. Numerous sturdy trail bridges cross over seasonal creeks and small waterfall areas.
You can extend this ride by crossing over the multi-use bridge near the Irving Group Picnic Area and following the Devil's Gulch Trail to the Devil's Gulch Horse Camp, but be prepared to cross Sir Francis Drake (two-lane winding road) as you exit the camp driveway, and also to cross Papermill Creek to get back to the trailer parking area (which is very close to the creek crossing).
If you begin your ride by crossing the creek and cutting through the horse camp, you can take Bill's Trail to the Mt. Barnabe lookout. Check in with the rangers before you ride—Bill's Trail is often blocked by down trees after winter. It's a single-track trail with numerous switchbacks up a steep mountainside forested with redwoods and carpeted with trillium, ferns and columbine, making for a truly breathtaking ride. Bill's Trail joins up with the Mt. Barnabe fire road just a short distance from the summit. You'll get 360-degree views of the area—a great way to scope out your next ride!
There are plenty of maps online and at the Samuel P. Taylor State Park kiosk that can provide details on trail options within or adjacent to the park. Maps are also available at the Marin Tack & Feed in Forest Knolls, conveniently close to the park's borders. Be safe and enjoy the ride!
E-mail Signup
Sign up for our newsletter to get helpful horse care tips, product updates, special offers and more.
Subscribe