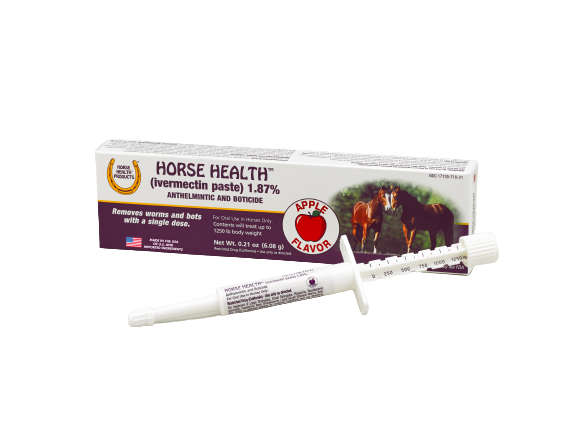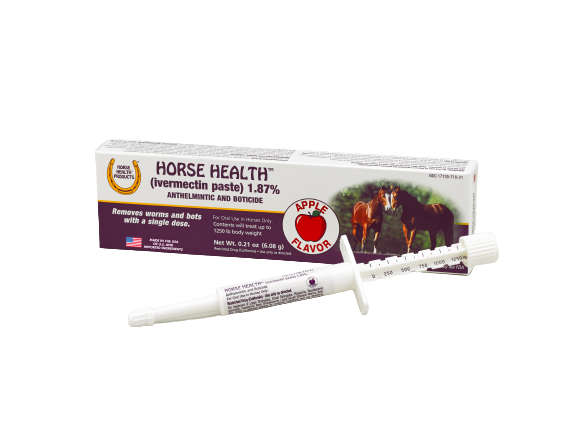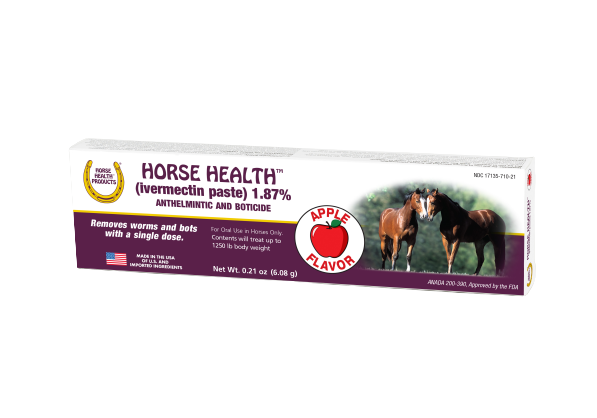 Horse Health (ivermectin paste) 1.87%
Apple-Flavored Ivermectin Paste Dewormer
Provides effective treatment and control of the following parasites in horses:
large and small strongyles, pinworms, ascarids, hairworms, large-mouth stomach worms, bots, lungworms, intestinal threadworms and summer sores caused by Habronema and Draschia spp. cutaneous third-stage larvae.
Removes worms and bots with a single dose!
Apple-Flavored!
Safe and effective on all horses including broodmares, stallions and foals
One syringe deworms horses up to 1,250 lbs (600 kg) body weight
Proudly made in the USA of U.S. & Imported Ingredients
From the manufacturer: Horse Health™ (ivermectin paste) 1.87% is FDA-Approved for equine use only, and only pursuant to, and in accordance with, its label. It is only effective for the approved indications on the label. This product has not been tested in humans and is not approved for use with humans. Any and all off-label use is unsafe, and is strictly prohibited.
Important information from the FDA regarding Ivermectin and Covid-19
DEWORMER WON'T WORK IF IT ENDS UP ON YOUR SHIRT!
Effective deworming depends on the right amount of dewormer getting into your horse. Make sure you give your horse the right amount of paste for his size, and that he swallows all the paste you give him. Adjust the syringe to your horse's weight by locking the ring at the correct weight marking on the plunger. Be sure to read the product information in its entirety before deworming your horse.